Southern Maine Teams
Maine Hoops Girl's Fall League Placement Information
XLSportsworld in Saco would like to announce the dates of Placement's and Tryouts at for Maine Hoops Fall League Basketball. XLSportsworld, Southern Maine's leading provider of off season sporting opportunities is forming girls teams to participate in the Maine Hoops Fall League. Maine Hoops is the state's longest standing AAU Club and League, participating for close to 20 years now.
Participants will play in 10 games, receive a uniform and 8 weeks of practices/skill sessions, including a minimum of 2 sessions conducted by Lenny Holmes, director of the Shooting School, Maine's only professional instruction dedicated solely to the art of shooting the basketball and Fitness Facility access. Cost is $225
Placement Times and Dates:
Sunday, September 8th and Saturday, September 14th as follows:
Grades 4th – 7th 10:00-11:15
Grades 8th – H.S. 12:30-1:45
Cost of Placements is $10 and all participants will receive a T-Shirt with # for evaluation purposes.
For Information about Boy's Teams please follow this Link www.themebc.com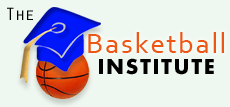 Raising Basketball IQ's One Player at a Time!
The Basketball Institute